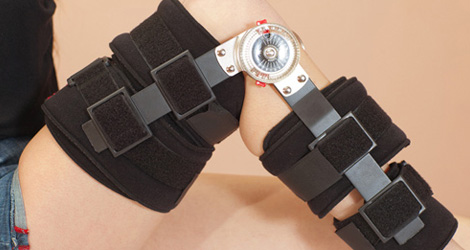 Are you looking for knee support or braces to relieve your knee pain? If yes, Dixie Physiotherapy & Wellness is here to serve you. We are a reliable wellness facility offering an array of custom fit knee braces in Mississauga to ease your joint pain and trouble. Our braces use hinges and extensions to prevent gliding down from the knee. With breathable liners and silicone inserts, the risks of skin irritation and excessive sweating can be avoided.
Custom-made Braces For Structural Support & Pain Relief
If you are a sports player, we know how important it is for you to stabilize and protect your knee joint from injuries. A physician prescribes knee braces to patients who have an ACL tear or knee injury and needs constant support to stabilize their knee. With an added support for joint alignment, custom knee support in Mississauga plays a good role during the recovery process. We provide three types of braces to make sure you receive the right structural support:
Find A Perfect Brace That Suits Your Needs
With a customized fit, reversible buckles and trimmable straps, we facilitate better and fast adjustments for all knee sizes. At Dixie Physiotherapy & Wellness, we offer a collection of perfectly fit custom braces in a variety of options, colours, and designs.
For those patients who are recovering from a surgery or injury, our orthopedic products are the right choice for rehabilitation and pain management. Along with protecting the injured area, knee braces help in speeding up the recovery process. To ensure comfort and flexibility, it is essential to find a right pair of braces that not only fits your knee but also meets your comfort needs.
Visit Us To Get Custom Knee Braces in Mississauga!