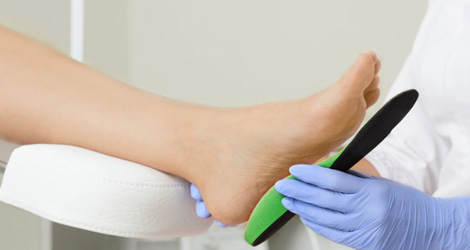 Are your feet tired and aching? If yes, it is time to provide them the right comfort with custom foot orthotics and insoles. No matter, you are an adult or a sports person, it is crucial to take care of your feet to prevent pain and sores. Dixie Physiotherapy & Wellness is your local wellness facility providing a spectrum of physiotherapy and massage treatments to take care of your overall health. We craft custom-made foot orthotics in Mississauga made from the best quality material to make sure your feet feel at ease no matter, how long you stand or play.
With our foot insoles, we provide an accurate foundation to improve your overall comfort, performance, and efficiency. Whether you are suffering from a sports injury or acute pain, our custom orthotics are the perfect choice for people dealing with Plantar Fasciitis, Morton's Neuroma, Overpronation, Supination, Flat Feet, Hallux Rigidus, Hallux Limitus, and other foot pain.
Foot orthotics are shoe inserts that are specially designed and manufactured to meet the prescribed specifications of a patient. They are generally of better quality compared to the ones available in the market. Some benefits of wearing these insoles include:
How We Make Custom Foot Orthotics?
The reason behind your foot pain determines the type of foot orthotics that will work the best for your condition. At Dixie Physiotherapy & Wellness, we begin by doing a computerized scan of your foot. While the scan is being done, our physiotherapists will rotate your ankle, placing it in a "sub-talar neutral" position. This scan results in accurate results with better alignment and improves support for your knees, hips, and back.
We manufacture these removable shoe inserts or insoles by taking an impression of your foot with a plaster cast mould or 3D laser scan.
Visit Us To Get Custom Foot Insoles in Mississauga!