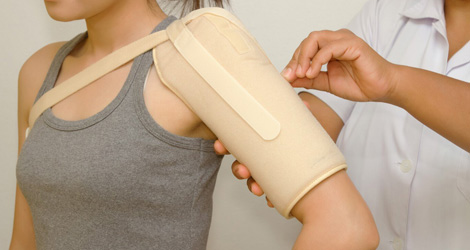 Are you suffering from a shoulder injury? Do you need custom braces to provide relief to your injured shoulder? If yes, its time to get adjustable shoulder braces in Mississauga. Dixie Physiotherapy & Wellness is your local wellness clinic offering an array of health and wellness treatments to patients of all ages. We have a collection of shoulder braces available in all sizes to ease your shoulder pain or discomfort.
Shoulder injuries can happen anytime and can impact your routine activities due to restricted body movement. Some of the common shoulder injuries include strains, sprains, torn rotator cuff, dislocated shoulder, shoulder instability and others. If you are feeling tired or having pain in your shoulder, immobilize it by wearing a brace or support or sling.
A shoulder brace gives extra support to ensure a painless body movement by minimizing the muscle stress. If you are recovering from an injury or surgery, a brace can provide better and quick recovery. At Dixie Physiotherapy & Wellness, we offer a wide range of shoulder supports and braces in Mississauga that are specifically designed to boost the healing process along with protecting from further injuries. Our products include:
Get Custom Designed Shoulder Brace From Us!
No matter, which condition you are suffering from, our shoulder braces provide the right immobilization your arm needs. Made from a breathable material, it allows the arm to stay aligned with a little to no movement. Wearing a brace is quite easy and requires few adjustments to ensure a perfect fit. It allows the arm to be fixed in a neutral or slightly abducted shoulder position.
Buy Custom Shoulder Brace Or Support Today!