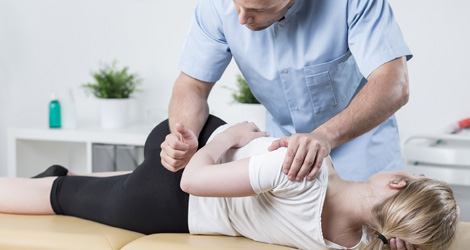 Are you suffering from body pain and discomfort? If yes, physiotherapy can heal you effectively by eliminating the pain. Physiotherapy is responsible for treating your muscles, bones, and joints using careful motions, and stretches. Whether you are dealing with posture issues, back pain, arthritis, sports injuries or body movement problems, get yourself treated at Dixie Physiotherapy & Wellness.
We are your local physiotherapists in Mississauga who provide customized treatments using evidence-based techniques. When it comes to physiotherapy, one needs a personalized treatment specially crafted keeping in mind the set of symptoms a patient is facing right now. To ensure quick results, we start your treatment plan with a thorough assessment and diagnosis of your condition. Once we are aware of the muscle issues you are facing, we'll create a treatment plan to improve your joint mobility, muscle strength, body balance and posture.
What We Do On Your First Visit?
On your very first visit to our physiotherapy clinic in Dixie, Mississauga, we'll do a thorough orthopedic and neurological assessment to assess your condition and to diagnose the pain you are suffering from. After taking into account your previous test reports and new physiotherapy tests, we'll design a custom treatment plan to help you get rid of the body pain.
Physiotherapy Treatments We Offer
Call Us To Schedule A Physiotherapy Treatment!