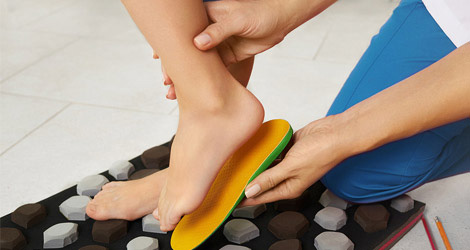 Are you dealing with a restricted body movement and posture problem? If yes, custom-made orthotics and braces in Dixie are meant to provide you with the right comfort and support your body is craving for. These elements are specially designed to align your foot, ankle, knee and many other bone joints. While orthotics look more like insoles, they are actually custom foot corrections that aim to correct your foot imbalance. They are helpful in reducing the stress and strain on the feet and essential bone joints, which in turn aligns your feet properly
At Dixie Physiotherapy & Wellness, our physiotherapists are here to improve and mend the painful joint misalignment and discomfort with a personalized or custom crafted knee braces and foot orthotics. Our braces work by stabilizing and restricting the motion in the affected area.
How Do Orthotics & Braces Work?
When you come to us for treatment, we'll measure your foot size to design a personalized orthotic that is custom molded to fit over your foot. This will greatly stabilize your foot movement. If you are facing some bio-mechanical deficits, orthotics can prevent the risks of foot injuries.
At Dixie Physiotherapy & Wellness, our orthopaedic bracing can decrease the discomfort you are facing right now by relieving the stress on the affected joints. Our professionals can cast, design and manufacture a custom orthotic to help you recover faster from pain. With custom-made products, we can:
Massage Therapies We Offer
Contact Us To Order Custom Orthotics & Braces!