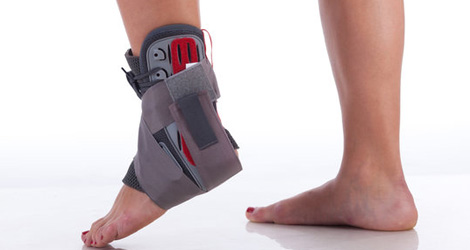 Did you recently twisted your ankle while running or walking carelessly? If yes, wear a custom ankle brace to provide support and protection to your injured ankle. To avoid any muscle strain and ligament sprain, it is essential to wear an ankle brace that ensures a flexible foot movement. If you are suffering from injuries, contractions, fractures, plantar fasciitis and other leg problems, ankle braces and supports in Mississauga are the right choices to opt for. Dixie Physiotherapy & Wellness is your locally owned and operated wellness facility having a collection of custom ankle braces that are specifically designed to fit your ankle. Our braces help in injury recovery and reduce the chances of ankle twisting and foot instability.
An ankle brace provides physical restraint to the foot and supports the ankle ligaments to ensure a pain-free movement. It transfers sensory feedback to the sensory nerve, thereby making a patient believe that the ankle is in the right position now. Whether you are a sports player or an adult, the likeliness of twisting or rolling an ankle are greatly reduced by wearing ankle braces.
How to Find the Right Ankle Brace?
Depending on the nature of your injury, you should prefer wearing a custom brace that perfectly fits your ankle without gliding down. From lace-up to wrap around braces, there are several designs to choose from. As per the compression needed, here are some braces you should try wearing:
At Dixie Physiotherapy & Wellness, we have a collection of custom ankle braces in Mississauga that creates the right compression around the ankle, thus improving the flow of blood and joint stability. When it comes to comfort and mobility, our braces are second to none. The compression can be adjusted as per the recovery requirement.
Visit Us For Buying Custom Ankle Braces!