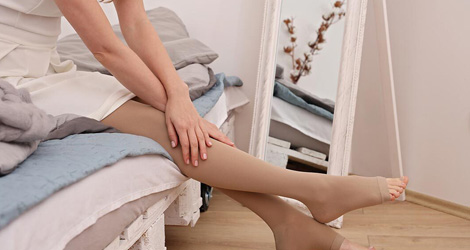 Are you dealing with varicose veins or other leg problems? If yes, consider wearing compression stockings. Whether you are a runner, flight attendant, adult or a pregnant woman, compression socks or stockings plays a significant role in providing comfort to the legs along with preventing the pain and tiredness. If you are at a higher risk of blood clots or are recovering from leg surgery, get a right fit compression stocking for you. At Dixie Physiotherapy & Wellness, we are your local physiotherapists who are committed to ensure your overall wellness and health with an array of manual therapies and treatments. We have a collection of quality made compression stockings which provides flexibility and comfort to your legs.
Who should wear compression stockings?
When it comes to treating acute and chronic leg pain, wearing tights help provide the most apparent benefit. It is useful in reducing the effects of deep vein thrombosis (DVT). If you are into a job that requires sitting or standing for long periods, the best therapy to maintain the blood flow in the legs with compression stockings. They are also effective in easing the condition of the post-thrombotic syndrome that includes leg pain and swelling.
For those who are looking for a right fit compression stocking in Mississauga, visit our facility right away. We have stockings available in different lengths, colours and pressure to prevent swelling, clots and varicose veins.
Benefits Of Compression Stockings
With gradient compression stockings, almost anyone can feel better as it helps prevent numbness in legs which usually happens during long hour sitting or standing position. These stockings relieve stress and enhance the blood flow, thereby preventing clots. It also helps in treating:
Before buying a compression stocking, we recommend that you consult our physiotherapist to know which compression will work the best for you. Get The Right Compressio
Get The Right Compression Stockings From Us!